Monthly Publication
January 25, 2017
HongFangLaw Receives the "Best Service Provider" Award for 2016 from AkzoNobel
After a prize award ceremony on January 10th 2017, HongFangLaw has officially been awarded the "Best Service Provider" award for 2016.
Thanks to a long and fruitful cooperation between our two companies, a great score of 100% successful invalidation cases and the fruitful civil lawsuits against trademark infringers and unfair competition in 2016, especially the well-known trademark status of "Dulux in Chinese" , HongFangLaw was recognized in four cases in 2016 by AkzoNobel.
Eric Su, HFL partner, has participated to the event and presented a case review of the aforementioned cases directly to the global trademark director of AkzoNobel.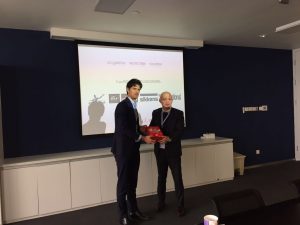 We are honored to be recognized by such renowned institution and we are proud of practicing in IP industry, with our professionalism and passion.