Company Update
June 8, 2023
HFL Recognized as IP Stars in 2023
HFL Recognized as IP Stars in 2023
HongFangLaw is delighted to share with all colleagues and clients that one of our most recent partners additions, Shirley Lin, was recognized by Managing IP as a Rising Star in 2022.我们非常高兴地与各界同仁分享,本事务所新晋合伙人之一林雅女士荣膺𝘔𝘢𝘯𝘢𝘨𝘪𝘯𝘨 𝘐𝘗 2022年新星称号。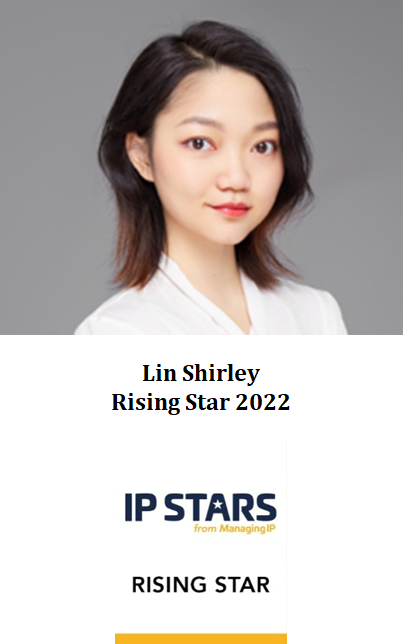 Furthermore, we wanted to share that our Partners Zhang Xu and Eric Su have been ranked as Trademark Stars in the IP Stars Ranking 2023 for Asia Pacific by Managing IP.
此外,本事务所合伙人张旭先生及苏剑飞先生在 𝘔𝘢𝘯𝘢𝘨𝘪𝘯𝘨 𝘐𝘗 2023年度知识产权明星排名榜上荣获亚太区商标领域明星称号。
The IP Stars ranking is based on data and opinions collected through interviews, questionnaires, and surveys by independent analysts with consultancy firms, individual professionals, and customers. Publicly available data, such as information published by courts and patent and trademark offices, is also examined.
知识产权之星的排名是基于独立分析师对咨询公司、个人专业人士和客户的访谈、问卷和调查所收集的数据和意见。此外,还审查了公开的数据,如法院、专利和商标局公布的信息。
As always, we have continued working towards international recognition for our great team. With our many years of experience in intellectual property practice, we are steadily pursuing the best service practice to protect our client's intellectual property portfolios. We are glad to have been recognized by Managing IP again as IP Stars in China.
在知识产权领域多年的深耕中,我们的团队一如既往地竭诚提供优质服务,全力保护客户利益,也因此获得了国内外同仁的高度认可。我们为再次被𝘔𝘢𝘯𝘢𝘨𝘪𝘯𝘨 𝘐𝘗 杂志评为亚太区知产之星而感到荣幸。
This will be a new stepping stone for our amazing team, and we will always work towards performing a better service for our clients and their intellectual property rights.
这将是我们的新里程碑,我们致力于为客户提供更卓越的服务,进一步更好地维护他们的知识产权。